Date/Time
Date(s) - September 22, 2023
12:00 pm - 1:30 pm
Calendar Download
iCal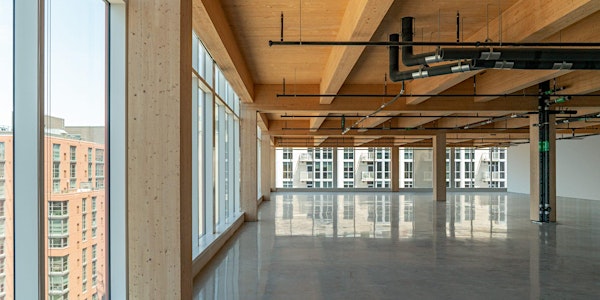 Pleases join LAIGW at its September 22 meeting at Clyde's Gallery Place from noon until 1:30.  The event is free to paid up members and there is a $50 fee for a guest to attend. Guests are always welcome.
To register for this event, click this link.
Mass Timber is a sustainable material that is being used on more and more construction projects, with good results and the potential to be a mainstream product. Besides the biophilic benefits it provides, this sustainable material has the potential to transform the way people work, the environments they inhabit, and the future of our planet.
Mass timber buildings utilize solid or engineered wood for the main structure, as opposed to simply serving as a design accent. It is not to be confused with "stick-built", "light-frame" or even "heavy-timber" wood construction, as mass timber buildings typically take on loads that are comparable to steel and concrete.
Change doesn't come without challenges, and mass timber design and construction face unique barriers to entry and regulatory hurdles.
Speaker
Tom Corrado, Senior Project Designer at Hickok Cole will be the presenter for this program.  To view a video that Tom made about mass timber, and other pertinent information from Hickok Cole, please go to this link:
https://hickokcole.com/whats-next/research/mass-timber/
About Tom Corrado
A few of Tom's design interests include urban studies, the idea of placemaking, and how digital fabrication and material science will drive architecture and design in the 21st century. His most recent obsession is mainstreaming mass timber, a material he feels has the capacity to completely alter the way we design, construct, and experience buildings. He is also working on new prototypes of medical office buildings and incorporating biophilia into the healthcare industry, When not thinking about architecture and design, Tom is a proud father and husband who constantly listens to music, cooks with friends and family, and watches copious amounts of sports.