Date/Time
Date(s) - January 28, 2022
12:00 pm - 1:30 pm
Calendar Download
iCal
To listen to a recording of this program, click here:
https://zoom.us/rec/share/oBY7jUp2tanA9bSdNwXgNXbZIyROTnLs5oIWiesrix-r4wQyPUsMfMbbj7BWbv0F.VE8CXiZblOGBZDtE 
Use this Passcode: 87%VDy=i
Inside AGU: Net Zero Energy for the Urban Landscape
In 2015, the American Geophysical Union (AGU) identified the need for a major headquarters renovation. The building's mechanical and electrical systems had reached the end of their useful life. Beyond creating a modern work environment and meeting place, AGU believed the project provided a unique opportunity to communicate its message of scientific advancement, reduce the facility's environmental impact, improve the health and well-being of employees in the workspace and serve as a catalyst for future urban renovations. Today, the project team's approach to achieving net-zero energy of a landmark building, on a tight site within an historic district can be used as a model for similar buildings throughout the country.
Join Hickok Cole's Yolanda Cole and Guilherme Almeida as they discuss the highly collaborative and complex process behind designing the District's first renovation to meet net zero energy standards, from navigating the entitlement process to exploring sustainable and innovative design strategies. Participants will walk away with unparalleled insight into the challenges and immense opportunities of high performance design.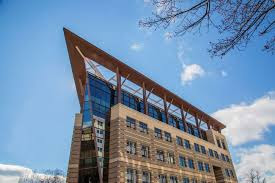 Yolanda Cole, FAIA, is a Senior Principal and Owner of Hickok Cole, a forward-focused commercial architecture and design practice located in Washington, DC. With over three decades of experience in base building and interior design, Yolanda has worked on projects ranging from large-scale, mixed-use developments to commercial and retail interiors. She is widely recognized for spearheading innovation in the profession through the cultivation of a collaborative, research-based practice. Yolanda is a frequent speaker at conferences on topics ranging from transforming the practice of architecture through exploration, to ground-breaking technologies for urban Net Zero renovations. Her personal passion is to influence housing policy and create new prototypes to maintain young families in our cities.
Yolanda is a past Chair of the Washington District Council of the Urban Land Institute (ULI) and currently serves as Chair of the Governance Committee. She is a past President of AIA|DC and served for many years on its Board of Directors. In 2013, Yolanda was named one of the Washington Business Journal's Women Who Mean Business. In 2017 she was honored as a Women of Influence in Commercial Real Estate at Bisnow's Power Series and was named one of the Washington Business Journal's Power 100. In addition to her leadership in the real estate profession, Yolanda is a founding board member of the DC Concert Orchestra and serves as the orchestra's Chair of Development and Principal Flutist.
About Guilherme A.M. Almeida, AIA, NCARB, LEED Green Assoc., Fitwell Amb.
Guilherme (Gui) Almeida is a Senior Associate and Director of Sustainability and High Performance Design at Washington, DC based design firm, Hickok Cole. Born in São Paulo, Brazil, Gui joined Hickok Cole in 2009 after receiving his Master's in Architecture from The Catholic University of America. Gui is Fitwel certified and a member of the AIA and USGBC. Internally, he is a member of Hickok Cole's Design, Staff Operations, and High-Performance Design (HPD) Committees. In his role as High Performance Design co-chair, he led the implementation of the firm's Sustainable Design Quality Control process and in-house building performance analysis. An award-winning architect, he has served as Senior Project Designer for several multi-family and commercial office projects including 1313 L Street, Whitehaven, J Linea, and the American Geophysical Union Headquarters, the District's first net zero energy renovation.
Motivated by his ability to positively influence how people interact with the built environment, Gui strives to unlock the same potential in each of his client's projects. As an architect, he is acutely aware of the outsized, detrimental impact the industry has on our climate and relentlessly seeks to increase awareness of and advocate for meaningful strategies in his work by educating himself, colleagues, and clients.