Date/Time
Date(s) - June 24, 2022
12:00 pm - 1:30 pm
Calendar Download
iCal
Location
Clyde's of Gallery Place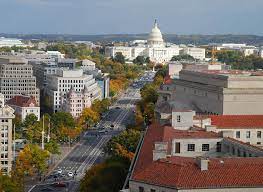 Our next meeting is on June 24.  It will be in person at Clyde's, starting at noon.  Elizabeth Miller of NCPC will present on The Pennsylvania Avenue Initiative.  To register for the meeting, click this link.  Registration is open now and will close on June 22nd at 5 pm.  At present we do not plan to offer a hybrid (online) option but this may change as we get closer to the date if there is demand.
The Pennsylvania Avenue Initiative
Pennsylvania Avenue is one of Washington's-and the world's-most recognized streets. It physically and symbolically connects the U.S. Capitol with the White House. As a home to federal headquarters, businesses, museums, residents, civic activities, and lively downtown events, it plays a significant economic and cultural role in America's capital city and to the nation.
However, the Avenue has been transitioning for some time. Designed in the 1970's as America's Main Street, it is no longer a cross-town thoroughfare and doesn't have the characteristics for a successful retail street. Its infrastructure is aging, physical condition declining, and vitality lacking. The avenue is very wide with not much traffic, few pedestrians, and minimal street level activity.
Over the past few years, Federal and District agencies collaborated to develop a proposed new vision to revitalize the Avenue and enhance its use as a venue, contributing to downtown's recovery. The proposed vision is to transform the Avenue between the White House and the U.S. Capitol into a venue that celebrates its civic role and spirit of democracy; creates an inspiring public realm; and modernizes infrastructure to make the Avenue a great street and an iconic destination. Three concepts explore different approaches on how to achieve this vision. The concepts provide a comparative and inspirational overview of potential options and can be mixed and matched.  Public input into these options is ongoing.
Speaker Bio
Elizabeth Miller is a certified planner and Fellow of the American Society of Landscape Architects. Her area of expertise includes landscape architecture, urban design, and smart growth and development. Prior to joining the Commission in 2001, Ms. Miller served as a principal planner and urban designer in South Florida for more than 16 years in the public and private sectors. She received a Master of Design with a concentration in Real Estate Development from Harvard's Graduate School of Design and a Bachelor of Landscape Architecture with a minor in Environmental Studies from the University of Florida.